eBook
Digital Assets in the Securities Industry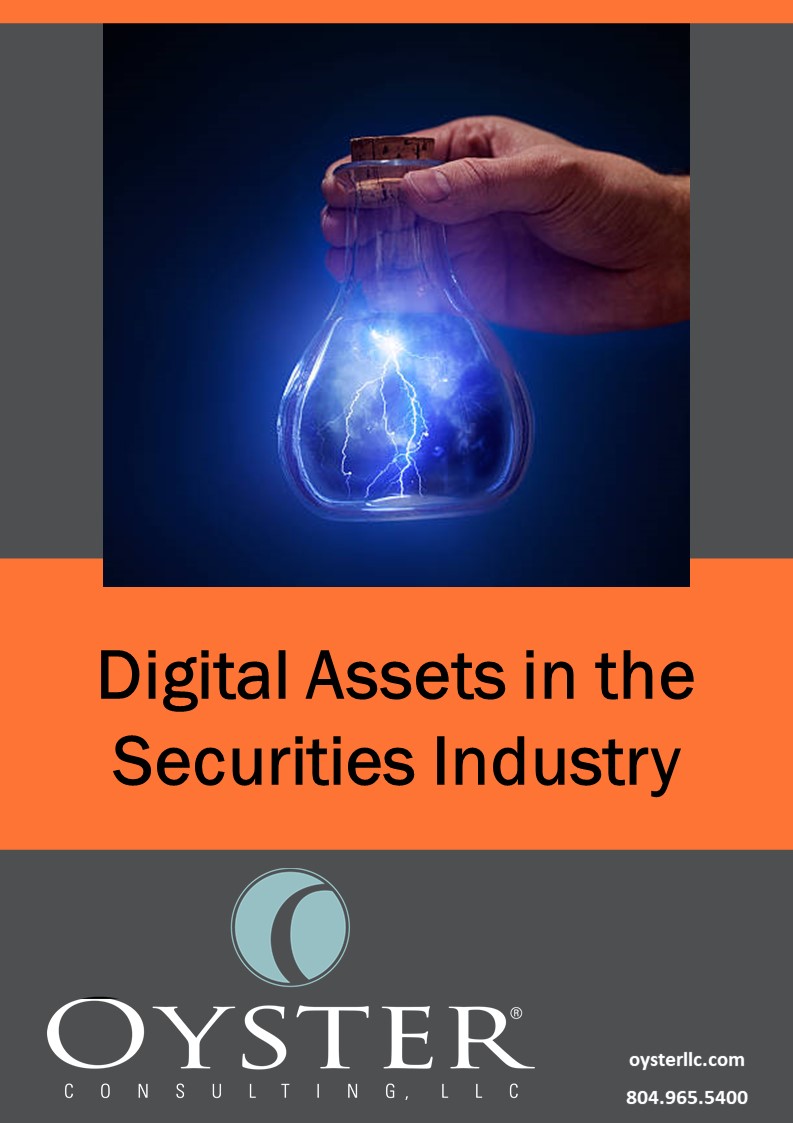 Download your Digital Assets in the Securities Industry eBook to learn the basics of blockchain and cryptocurrencies, and what that means when it comes to the securities industry.
In this eBook you learn:
The different types of digital assets

Digital assets as a security

What this means for custody and anti-money laundering

How Regulation Best Interest and suitability come into play

What is a distributed ledger, fungible token and more
Oyster Consulting is dedicated to providing financial services firms with professional consulting, outsourcing and software solutions.
We help Broker Dealers and Registered Investment Advisors meet industry operational challenges, succeed in a changing regulatory environment, and be prepared for tomorrow.
Some services that we provide to broker-dealers and RIAs include
Registration
Compliance
Outsourced Roles, such as FINOP and Chief Compliance Officer
Platform updates and conversion support
Technology review and alignment
Trade desk reporting, compliance and process
Testing including 3110 compliance, AML, branch exams and RIA 206(4)-7 annual reviews
Oyster Consulting can help your firm with all aspects of business. Our process simplifies strategic projects, testing and compliance by breaking them into manageable parts, then guiding you through the project, start-to-finish.
As industry professionals, we understand the challenges you face every day in your organization. Our insights into business problems and solutions are based on first-hand experience gained by working with the largest financial organizations in the country. We advise you based on our experience, rather than offering textbook solutions.
Get advice from experienced professionals with Oyster Consulting. Our consultants are former CEOs, regulators and professionals with decades of experience. We provide strategy, sales, operations, trading, technology, finance and compliance advice for your firm's success. At Oyster Consulting, our team consists of knowledgeable professionals from all sides of the of the industry, offering a 360-degree perspective. Get the tools, wisdom and guidance you need to make the best decisions for your business. Experience for yourself what sets us apart from the rest.
Our experts weigh in on industry hot topics, regulations and compliance, best practices and more through original articles, blogs and podcasts. Our free content, based on what is happening in the industry, contains insights from our experience with clients, industry vendors and regulators. Subscribe today.
Our technology experts can help get your implementation on track. Or maybe you have a legacy system and are considering replacing or updating the systems that integrate with your platform. With our vendor due diligence, we make the process of system comparison, best practices and vendor selection easily managed. When ready, we plan and manage implementation, integration, training and adoption helping to ensure your ROI.
Through gap analysis our operations and compliance teams can close the gap between policies and procedures, improving compliance and efficiency. Oyster's operations specialists have the trade desk, middle and back office system experience that you need.
Reach out – we look forward to discussing ways that Oyster Consulting can help your firm by creating simplicity in a complex environment.